THE CORISHMAN AND CORNISH TELEGRAPH.
OCTOBER 29 1919
Levant Miners Crushed.
---------------------------------------------
COLLAPSE OF MAN ENGINE
IN SHAFT
THIRTY ONE MEN KILLED
THRILLING STORIES OF RESCUE AND ESCAPE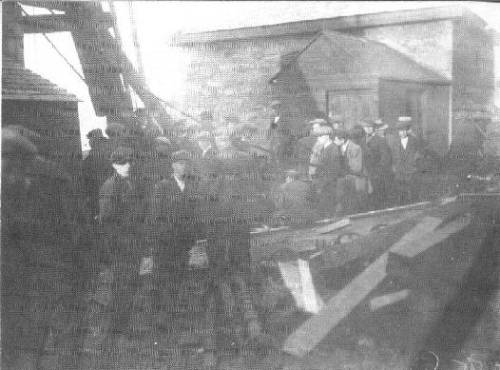 Men wait for news on the day after the disaster.
The shock and horror following the news that three Levant miners had been killed in the shaft on Monday, has changed to horror and dismay as the death toll has mounted each day.
A certainty that twenty men have been crushed to death and that eleven missing men have probably shared their fate - short of a miracle happening - makes it more terrible even than the Wheal Owles disaster, when in January, 1893, twenty men were drowned by holing into a pool of water in a neighboring mine.
The tragedy was the work of an instance. Something snapped - perhaps an iron cap or bolt - and what as been described as a living pillar of men, dropped down the man engine shaft, crushing many to death, mangling more with debris of breaking wood and metal - the beam of the man engine, the ladder ways in the side of the main shaft, and the platforms cut in the side of the shaft.
Imagine square wood beams 40 feet long, braced together in long stems and held perpendicularly 1,800 feet in height in a mine shaft.
Jutting out of this beam which moves up twelve feet and then down twelve feet like the Cornish pump which raises the water and drains the mine, are steps. On each step was a man, and from 130 to 150 were standing as a human pillar on this structure, or waiting on the side platforms to take the next step, as they ascended from their work. About twelve had stepped off in safety on reaching the surface.
When the man engine ascends and is at the top of the stroke as on Monday (the men having completed their day's work about 2-30 p.m.), the machine was practically full of men, each one, as it were standing above the head of the other on the projecting step. An instant later all these miners would have stepped off and paused on the side platforms, or sollors, for the next up lift of the engine. That instant meant life or death to thirty or more men.
The scene was indescribable. The rod released from its top cracked in several places, and the structure crashed down in a mass of debris. As its foot was at the bottom of the shaft it could only have dropped the twelve feet if it had not snapped in other places. The worst chokage was in the upper part of the shaft.
Our representatives on the spot on Monday and Tuesday gleaned the facts with great difficulty, because of the blockade and uncertainty. But they have interviewed survivors and witnessed the intense anxiety and grief of relatives and the heroism of the relief parties, which include one miner who escaped by a leap in the shaft and remained all day down the mine helping to extricate his buried and maimed comrades.
One entombed miner ( Leonard Semmens) was a live on Wednesday but his dead body was recovered on Thursday morning.
Terrible as this disaster is, in point of numbers, it still falls short of the record Cornish mining tragedy - The drowning of 53 men by a waterspout which flooded the shafts of East Wheal Rose in 1847.
At Dolcoath in September 1893 R. H. Davies was rescued after 40 hours entombment his seven companions being killed. It was hoped at first that some of the now missing Levant men would be extricated alive, but as the days pass, it seems impossible that any one could live in that narrow hole chocked with debris. If men are cut off in a level by falling ground they have a chance of life by rescuers boring through the ground and passing food and drink through pipes; but apparently at Levant all the missing men were on the steps at the time of the crush.
The Home Secretary, Col. Robyns, a lord of the mine Sir Clifford Cory M.P., and Mt Ben Tillett M.P., Secretary of the Dockers Union, to which most of the Levant miners belong, have sent messages of Sympathy with those bereaved and injured in this terrible time of suspense and grief.
His Majesty's Inspector, Mr Boydell, is co-operating with the executive on the spot. Levant is one of the oldest working mines in the county, and was the last to use the man-engine, which has been regularly inspected and the materials renewed at various times. It is also the last of the mines worked on a cost-book, or in-limited liability system.
Levant is perched on the edge of the cliffs, and its tin and copper are raised from a mile and more under the sea bed of the Atlantic. It was managed for many years by the late Major Richard White up to the time of his death; and the late Mr Francis Oats was the chairman. Major Freethy Oats succeeded his father. The committee include Mr T Robins Bolitho, Mr J C. Tregarthen, Mr Henry Olds, and Mr Harry Rowe of Camborne.
The mine was on the brink of being reconstructed and a new vertical shaft with gig for lowering and raising men, formed part of the scheme.
Hundreds of Cornishmen in foreign and colonial mining camps will read with unspeakable sorrow of this calamity in the village of Pendeen to old comrades and to a mine in which they worked in by gone days.
The one bright spot is the splendid spirit of the staff, men, clergy, the Nonconformist helpers, and the executive and men of the neighboring mine in this hour of trial. It will probable be found that several have won the King Edward Medal for Bravery; and the endurance of such a man as Captain Carter, who has remained at his post three days without sleep, speaks for itself. Captain Ben Nicholas, the manager, has directed operations from the start, supported by his chief Major Oats, the agent and neighbours; and ambulance men from the Camborne district also rushed to the rescue.
The full tale has not yet been told; but we give our readers the tragic story as it has been gleaned by our staff.
After the flooding of Wheal Owles, "The Cornishman" first published and supported the suggestion of the late Mr Joseph Martin H.M. Inspector of Mines, that a County Miners Benevolent Fund should be provided. Thousands of pounds were promptly subscribed.
Since then the Government placed the burden of liability on the employers, who usually insure the Companies, and bereaved relatives are not dependent upon the sympathy and generosity of the public.
0-0-0-0-0-0-0-0-0-
HOW THE ENTOMBED MINERS WERE FOUND
From an early period on Monday night the one absorbing topic at the mine was the prospect of rescuing the entombed miner, who was known to have been alive when the first imprisoned men were rescued, and for whom deliverance such strenuous efforts had unremittingly been made.
Up till almost the last moment, it was believed that the poor fellow in question was Leonard Semmens, but the sequel proved that surmise was wrong and he turned out to be Nicholas Hocking Thomas, aged about 20 from Pendeen.
Without a pause night or day the endeavors to rescue him were almost frantically pursued, and everything that skill, courage and enthusiasm could accomplish was done to effect a rescue. But the work was difficult and dangerous - dangerous not only to those who were conducting the operation, but also to the man himself unless due precautions were taken to prevent the debris falling away.
The volunteer party from East Pool (Camborne) were among those who were conducting this work, and the fact that groans could be heard coming from the man as late as two o-clock on Wednesday afternoon spurred them on in their efforts. From that moment, however no sound was heard proceeding from him. But the work never relaxed, and at about 8-30 on Wednesday night, they found him near the addit, in a standing position on the "sollar" as the platform at the side of the shaft is called.
Dr. Richmond was in attendance but the poor fellow breathed his last before he could be taken to the dry.
0-0-0-0-0-0-0-0-0-0-0
LUCKY ESCAPE
Our representative had an interview with Mr John Grenfell; (son of John Edward Grenfell, one of the shift bosses who unfortunately was killed.) Mr Grenfell himself was amongst those who had stepped off the man-engine before the accident happened. He also said that all the boys had been saved in this manner and explained technically why this should have been so. He considers that between 40 and 50 escaped thus, and therefore, about 100 men would have been left on the man engine when the irons snapped.
Mr Grenfell said that two steps beneath him on the man-engine was mr Howard Carbis, perceiving the sudden descent, leaped for the level, which he succeeded in reaching and thus saved his life.
0-0-0-0-0-0-0-0-0-0-0
A PLUCKY MINER
In the course of a short conversation with our representative. Mr Grenfell was induced to give a few particulars which came under his personal observation at the time. He spoke with the utmost reserve, and maters reflecting on his personal courage and effects could only be got from him by pumping.
For instance one who was present at the interview and was in possession of the facts said that "Mr Grenfell was the first man to go down to the assistance of his colleagues".
"No", replied Mr Grenfell, with most becoming modesty, "If you put in anything, say that William Oats and John Grenfell where the first two who went doen after the accident, from the surface."
Again it was only when someone suggested that Mr Grenfell was minimising his share in the work, did it emerge - and then only by confirmation of a statement made - that he was lowered down by rope.
" But there were many others by to help" added Mr Grenfell "and we were able to send up Thomas Maddern. After that the rope was again sent down and I was lowered another 36ft. A lot od debris came down around me, but here I found Jos. Hosking, who was shouting out for light and assistance.
When he had been sent up I found I could not do anything more for those below, owing to the chokage in the shaft; even though I could hear someone groaning. This must undoubtedly have been Nicholas Hocking Thomas, who was rescued under such dramatic conditions on Wednesday Night.
0-0-0-0-0-0-0-0-0-0-0
A TYPICAL RESCUE
Early on Monday night one man was discovered in the shaft tightly pinned in by timber, which had caught him against his leg and arm. Efforts were at once made to rescue him, but this work took three or four hours. Meanwhile it was discovered that there were three or four others some distance above, whose release depended upon that of the man below. Eventually the first man was got out, badly injured, and then came the turn of the others. These had been more lucky. They had escaped practically unhurt, and two of them walked to the 'dry' changed their clothes and walked home.
As has been stated the majority of the missing men - 25 were said to be unaccounted for- are near the mouth of the shaft. About 20 were brought up during the night.
It is stated that no men who were below the 140 fathom level were killed.
0-0-0-0-0-0-0-0-0-0-0
A MARVELOUS ESCAPE
A graphic description of the accident, and its terrible consequences was supplied by Robert Penaluna, a young St Just miner who was on the man-engine at the time of the breakage.
"I was coming up on the man engine" he said "three steps below the 150 fathom level. The engine was full of men. We had travelled up part of the way between one sollor and another when the engine dropped a little put then picked herself up again. Then she fell away to the bottom. I was thrown on my chest upon the sollor. My chum on the next sollor below (Charlie Freestone, aged 25 of St Just) had his feet caught between the step on which he stood and the sollor, and was swung upside down. "
" I was not hurt except that a piece of timber struck me on the leg. For about three hours I was down there before I could come up. Then i walked up the ladder through the pumping engine shaft, to the surface. Before that I picked up Freestone, who was suffering from shock, and dragged him through a manhole on to the sollor upon which I was standing. He fainted in my arms. We got him back to the 150 level shaft and men of the afternoon shift helped to drag Freestone to the surface with ropes. When the engine broke it was a tremendous crash for in dropping she knocked away timber and everything else in her path. The engine rod on which we were traveling shook violently. The smash gave a terrible shook to us all, and everybody lost heart and nerve entirely. The screams of some of the men were awful, as they gripped the rod like grim death. A number of them had the presence to the nearest place, and saved themselves by the skin of their teeth.
I wouldn't go through an experience like that again for the world, " concluded Penaluna.
0-0-0-0-0-0-0-0-0-0-0
BOYS TERRIBLE EXPERIENCE
Willie Lawry, a bright young lad, and son of Mr Richard Lawry of Queen Street, St. Just, who started work underground only about three weeks ago had a very narrow escape. He was fortunate in escaping serious injury, but was suffering from shock when taken home in the Penzance ambulance car. In describing his experience he said one man lay across him dead, and the body had to be removed before he could be rescued.
0-0-0-0-0-0-0-0-0-0-0-0
THE LAST BODY RECOVERED
The body of the last of the victims, Edwin Trathen, was discovered on Saturday morning and brought to the surface from the 80 fathom level.
The deceased was superintendent of Bojewyan Sunday School and organist. He was also a class leader. Within about twelve months no fewer than four funerals have left Mr Trathen's home his wife having died about a year age.
0-0-0-0-0-0-0-0-0-0-0-0
THE MAYORS FUND
In response tp the appeal of the Mayor of Penzance (Ald. George Poole) the following amounts have been received.
The Mayor £10 10s 0d.
Webber & Roberts £ 5 5 0
Employees of do. £ 2 5 0
H. H. Cannon £ 5 0 0
Sister McClement £ 1 0 0
C. Watts & Co. Plymouth £ 2 2 0
J. Baldwin Haddon £ 5 0 0
Stewart B Haddon £ 1 1 0
Thomas Richards, Bellair Madron £ 5 5 0
R. B. Axworthy £ 5 5 0
T.H. & J.B. Cornish £ 5 5 0
The "Western Morning News" fund on Tuesday totaled nearly £1,200
0-0-0-0-0-0-0-0-0
WHY THE FUND IS NEEDED
The following is the official list of the dead and their dependents. Age where known in brackets.
| | | |
| --- | --- | --- |
| NAME | ADDRESS | DEPENDANTS |
| J Vingoe Trembath , (25) single | Bojewyan | Mother |
| Edwin T. Trathen, (41) widower | Bojewyan | 3 children, 2 under 16 years |
| Mathew R.? Mathews (36) | Bojewyan | widow |
| Wm. J Harvey, (43) single | Boscaswell | Widowed Mother and sister over 16 |
| John Kevern, (44) | Carn View-Terrace, Pendeen | Widow |
| Nicholas Hocking Thomas (20) | Truthwall | Widow & 9 Children (& under 13 years |
| William John George (47) | Cresswell-Terrace, | Widow + 7 children. ( youngest aged 15, working five months at Levant, and one aged 16 afflicted). |
| John E. Grenfell (52) | Cresswell Terrace | Widow, + 9 children (6 dependant) |
| Tom Rowe (46) | Creswell Terrace | Eleven orphans (7 under 13 years, youngest being 8 months old. Their mother died a few months ago). |
| Mathew Newton (61) | Carn Bosavern | Widow |
| Peter Branwell (38) | Chapel Street, St Just | Widow |
| Thomas Branwell (60) | Carnyorth | |
| Sampson Osborne, (48) single | Chapel Road, St Just | |
| Hy. Andrews (46) | Nancherrow-Terrace, St Just | Widow + 2 children (1 under 16) |
| Wm. E. Waters, (31) single | Chapel Street, St Just | Sister |
| John T. Angwin (61) | Regent-Terrace, St. Just | Widow + 2 adult children |
| William Henry Tregear (57) | Bosorn-road, St. Just | Widow + 2 Children under16 |
| S. J. Brewer, (18) single | Church Sq., St. Just | |
| John Tonkin (52) | Boscean | Widow + 7 children 3 dependant |
| Geo. H. Eddy (45) | Bosorne-road, St. Just | Widow + 7 children 6 under 16 |
| Ben Hocking (43) | Kelynack Moor, St Just | Widow + 6 children all under 16 |
| Jas. Maddern (47) | Carn Bosavern | Widow + 2 children 1 under 16 |
| Wm. J. Murley (29) | Tregaseal, St Just | Widow + 2 Children under 16 |
| Nicholas J. Mathews (36) | Chapel Street, St Just | Widow + 1 child under 16 |
| John Wearne (29) | Bosorne Fields, St Just | Widow + 3 children under 16 |
| John Ellis, (34) single | South Place, St Just | |
| William. Henry. Ellis (47) | Chapel-street, St Just | 4 children 2 under 16 |
| Edwin F. Pascoe (22) | Prince's street, St Just | Widow |
| James H Oats, (39) single | South Place, St Just | Widowed-mother |
| Leonard Semmens, (25) single | Nancherrow-Terrace. St Just | |
MEN WHO WERE INJURED
| | |
| --- | --- |
| NAME | AGE |
| Lionel Angwin | 27 |
| Thomas Angwin | 32 |
| Sydney Branwell | 20 |
| Sydney Dennis | 22 |
| C.S.Freestone | 24 |
| Josh Hocking | 32 |
| J.H.Johns | 25 |
| W.R.Lawry | 14 |
| Thomas Maddern | 45 |
| Martin Morrish | 45 |
| A Nankervis | 19 |
| W.J.Nicholas | 19 |
| Thomas Ninnis | 30 |
| William Rickard | 41 |
| John Semmens | 15 |
| Gilbert Semmens | 25 |
| Joseph Semmens | 56 |
| Richard Warren | 53 |
| T.G. Williams | 24 |
By clicking on the above BBC web site link, you can see the following related film clips. Once on the site scroll to the bottom of the page. Use your back button to return to this site.
The Levant Mine Disaster - Levant Mine Memories (1960s/b&w/sound)
A former mine worker recalling one of the worst tin mining disasters in Cornwall. Thirty one men were killed in October 1919 at Levant Mine when an ageing mechanical ladder collapsed. (2 minutes 36 seconds ©BBC)
Contents
Questions or problems regarding this web site should be directed to the

Last modified: Wednesday May 03, 2006 .