The Williams Hotel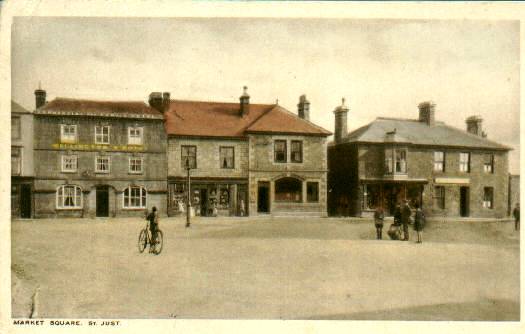 On the 14th of July 1869, The Cornish Telegraph newspaper reported that the following was found on the table in the dining room of the Williams Hotel in the Square, St Just in Penwith. Now just which one of the hotels was the Williams I was not sure. However, Andrew Burt has sent me an e-mail with information and photo, for which I am most grateful. I have appended them below.
Welcome to Williams Hotel, St Just
Welcome and thrice welcome, worthy friend.
We wish you joy at our Lands End
If you have time you really must
Have a good sojourn at St Just
Our cliffs and hills will well repay
The cost of toil of many a day
Cape Cornwall too is near at hand
The scenery, there is very grand
If you have time, do not decline
To visit the Botallack Mine
For bed and board you will do well
At Williams well known Hotel
A very comfortable house
Where you may sleep snug as a mouse
There good accommodation too
As I have found and so will you.
Dear George,

Not sure if I have corresponded with you before but there are two hotels in Market Square, St. Just: The Commercial Hotel and The Wellington Hotel.

The Wellington Hotel, is the double fronted building immediately behind the cyclist in your picture and was set up by John Tresize in 1813. I have some knowledge of the hotel - it's where we drink / dine when at
home and where we haul up at Feast.

I have an incomplete list of the landlords of the Wellington but know that a William and Mary Williams were the proprietors of the Wellington in 1843. Alas Mrs Williams died aged 22 and was buried on Sunday 29th October 1843. In 1847 William Williams was still at the 'Wellington Inn' and Thomas Bury Burton, victualler was at the 'Commercial Hotel' By 1852 it seems the Wellington had changed hands to Thomas Bury Burton and records that a William Williams was the proprietor of the Commercial Hotel which is located on the other side of Market Square at the junction with Market Street.

See my photograph of the Commercial from our church tower. Is it possible, that both William Williams are one and the same individual?

Hope this helps

Regards

Andrew Burt
11th October 2003.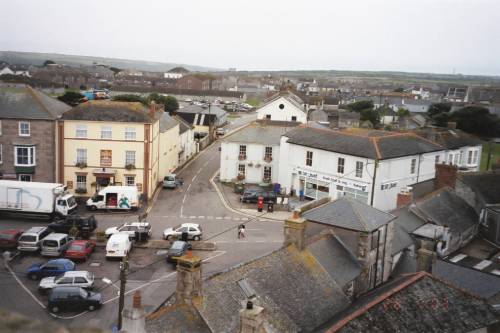 The cream building is the commercial hotel. Photo taken from church tower by Andrew Burt.
Sandra and George Pritchard are the authors of original work on this site. They give permission to copy and use this information on the following conditions.
1 It will not be used for profit.
2. The source will be credited.

Copyright © 2001. /02. /03. /04. /05. / All rights reserved.
Revised: January 08, 2005 .