Cornish Miners in America (Photos)
My wife found these photos at a postcard sale in Redruth. They seem to have belonged to a St Just miner called William Lavers who went out to America around 1910. She has researched the people and some history follows the photographs. We would love to hear from anyone who could tell us more.
Click on image to enlarge
9.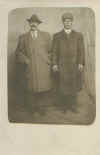 William James Lavars
William J Lavars was born in 1878, the son of agricultural laborer James Lavars. I cannot find any records of the mothers maiden name or of his baptisim. By 1881 his father was a widower and the family is shown as living at 1, Tredinney, St Buryan on the census for that year as follows:
Lavars James, Head, Wid, 28, St Buryan
Lavars Philadelphia, Mother 68 St Buryan
Lavars Philadelphia, Dau. 5 St Buryan
Lavars William J, son, 3 St Buryan
The next record we have for William is from the Ellis Island archive when aged 14 he entered America for the first time. He had crossed the Atlantic on the