A Tribe of Isreal
Sandra my wife likes to call this branch of the Vingoe family "The Tribes of Isreal" because as can be seen from the main tree they have put down roots in Australia, New Zealand, South Africa, Canada and the USA. The family also moved within the United Kingdom and I have chosen to follow the American story because it gives an insight into the wanderings of the family.
Let us start the story with Israel Vingoe whose family tree we have traces back to John Vingoe who was born around 1580 in the reign of Queen Elizabeth the 1st of England. You can find this tree by going HERE and clicking on "Isreal 1790" in the index.
Israel was baptised at the Parish Church in Sennen, Cornwall on March 21, 1790 the twelfth child of James and Amy Vingoe and his early life was spent on the border of the parishes of Sennen and St Just where his father was a fisherman. The family probably lived within the small settlement of Escalls where countless generations of Vingoes had lived, or on the nearby Tregiffian cliff both of which have strong links to the Vingoe family. In May 1826 Israel married Jenifer CLEMENCE who was just nineteen, in her home parish of St Buryan.
The first record we have of Israel and his family other than the parish registers is in the 1841 census, when they are shown as living in St Just Church Town.
"Israel Vingoe, age 47,,Ag Lab, Jenifer Vingoe,,34, Israel Vingoe,14,,Agricultural Labourer, Elizabeth Vingoe,,13, Caroline Vingoe,,12, Maria Vingoe,,5, James Vingoe,3, John Vingoe,2m."
We are going to follow Israel age 14, who had been born on the 12th of November 1826 just six months after his parents marriage. He had followed his father into a farming life in the belief that when his uncle William Vingoe of Escalls in Sennen died some of the family property would be left to his father.
This Uncle William died unmarried and with no issue 16 March 1845 a will was produced in which he left everything to a nephew, Richard Nicholls of Germoe, son of his sister Grace Nicholls. He also left £350 to William Lawry, farmer of Gulval, husband of his niece Mary Nicholls, daughter of his sister Grace. This money was payable 12 months after Williams death with " interest of 5 per cent per annum payable " There were also small legacies:- Brother Israel of St Just-in-Penwith, £1 : sister Jane, wife of Thomas Semmens of Sancreed, £5 : Barbara, wife of John Vingoe of Sennen £1: Christiana, wife of Edward Perrow of St Just £1: Also annuities were to be paid to brother Stephen , £3 pa : Anne, wife of Thomas Ellis of Sennen, £5 pa : Grace Nicholas, widow of Gulval, £5 pa : Sarah Blight, widow of Ludgvan, £5pa These legacies and annuities were to be paid out of the rents from the Escalls property but ceased on the death of any of the beneficiaries. The whole of his "......... freehold and leasehold estate situate in Escalls and all other real and personal estate and effects, money and securities for money, goods, chattels, estate and effects of what nature or kind whatsoever and wherever situate lying and being of which I shall die possessed or become entitled unto at my death, I give, devise and bequeath the same and every part thereof ,unto my nephew, Richard Nicholls of the parish of Germoe in the said county, shopkeeper................"
I don't think William left any room for doubt about his intentions in this will written in December of 1842. He had removed from Sennen, after a lifetime of living there, to Gulval where there was obviously more influence on him from his sister Grace. However, Israel Vingoe, was an executor to another "pretended" Will dated 1 Sep 1843 and decided to persue the issue in the courts. In a hearing in the Archdeaconry Court Israel's lawyer failed to prove this second will legitimate. The court declared " that the second pretended will of the said deceased bearing the date the first day of September one thousand eight hundred and forty three, in which the said Israel Vingoe is pretended to be one of the Executors, to be null and void and invalid to all intents and purposes and to have no force or validity in law whatsoever....." The decision was declared in the parish church of St Mary's, Penzance on the 16 April 1847
We shall never know the truth of the business but I think the proceedings are recorded in the records and are held at Truro Record Office. Another project someday See Land & Holdings of William Vingoe
Israel the third had married Mary Hocking, the daughter of a St Just miner, Nicholas Hocking. The marriage taking place in St Just on the 2nd September 1851 and a year later a son whom they called Israel was baptised at the Bible Christian Chapel in St Just. Within three months however, the child died and his death was recorded at Penzance.
In 1863 Israel and Mary had another child which they again named Israel. They did not have the child baptised as having paid once for the name they like many others people felt they did not need to do so again. Two years later in May 1855 another child George Hocking Vingoe was baptised.
In 1858, Mary was to suffer both joy and tragedy with the death of grandmother Jennifer who was buried on the 7th of May. Followed by the birth of Nicholas Hocking Vingoe a brother for Israel and George baptised in St Just on the 13th of May. This was then followed by the death of her husband Israel who was buried on the 30th of May 1858. A further blow came with the death of her baby before the year was out.
In 1860 Mary and her sons Israel and George were living at the Church Town, St Just when she married her second husband James Foss. The marriage records show the following:
08 Mar 1860 by Banns James Foss 20 Miner of Church Town (Father: William Foss, Farmer) Mary Vingoe 36 widow of Church Town (Father: Nicholas Hocking, Miner) Witnesses: Samuel Veal, William Curnow
Following the marriage we know from the 1861 census that the family set up home on Fore Street, St Just and the census entry is as follows:
1861 Census
RG9 / 1598 / ED 15 folio 55 page 4 schedule 15
15 Fore Street, St Just in Penwith
James Foss, Head, Mar, 24, Copper Miner, Cornwall, Penzance
Mary Foss, Wife, Mar, 34, -, Cornwall, St Just
Israel Vingoe, StepSon, -, 8, Scholar, Cornwall, St Just
George H Vingoe, StepSon, -, 6, Scholar, Cornwall, St Just
Mary Hocking, Mother-in-law, Widow, 66, -, Cornwall, St Just
It is interesting to note that both Mary & James have different ages to those shown at the time of their wedding.
The St Just of the 1860,s was a place of great depression. In May 1867 the West Briton newspaper reported:
During the last twelve months, Cornish miners to the number of 7,380 have left the county, 1,155 of whom settled in America, 670 in Australia and New Zealand, 450 in California, while the iron mines of Scotland and the coal and iron mines of the North of England have absorbed 1,090; 1,390 have left Gwennap, Stithians, Illogan and Phillack; 1,590 the district of Lelant, St Ives and St Just; 80 Wendron and Sithney; 205 the district of St Agnes and Perran; 220 the district of St Austell; and 1,200 the district the districts of Liskeard and Callington, The returns from other districts are not so correctly ascertained, but must fall little short of 2,000. West Briton 17 May 1867.
and again in August:
At Wheal Owles meeting on Friday last, Mr R Boyns has beheld a sight a day or two ago he had never seen before, and one he hoped he would never see again in St Just.
On his way to Hayle, this side of Penzance, he had overtaken 15 women – all on their way to the workhouse. He knew the faces of many and believed that genuine penury had driven them to seek parish relief. West Briton 23 August 1867
Mary had been lucky enough to find another husband following the death of Israel and it looks as if she and James plus their son Israel had moved out of the area by the 1871 census leaving their son George Hocking Vingoe behind with his auntie and uncle. His uncle John Rowe was a mining agent and he arranged for young George to train as a blacksmith. The 1871 Census for St Just shows the following:
ROWE, JOHN, Head, Married, Age 55, MINE AGENT, born 1816 in ST. JUST, Cornwall
ROWE, LOUISA, Wife, Married, age 55, born 1816 ST. JUST, Cornwall
ROWE, GEO H, Son, Unmarried, age 25, MINE ENG. DRIVER, born 1846 ST. JUST, Cornwall
ROWE, ALMOND, Son, Unmarried, age 23, MINE ENGINEER, born 1848 ST. JUST, Cornwall
ROWE, WM, Son, Unmarried, 19 MINE ENG, DRIVER, born 1852 ST. JUST, Cornwall
ROWE, HARRIET, Daughter, Unmarried, 17 - born 1854 ST. JUST, Cornwall
ROWE, RD, Son Unmarried, 15, MINE ENG DRIVER, born 1856 ST. JUST, Cornwall
ROWE, JAMES, Son, 13, SCHOLAR born1858, ST. JUST, Cornwall
VINGOE, GEO H Nephew - 16 BLACKSMITH, born 1855 ST. JUST Cornwall
------------------------------------------------------------------------------------------------------------
By 1881 George Hocking Vingoe had moved to Workington and had married a girl called Margaret. I have not yet found the record of the marriage but the 1881 census shows them living at number 7 The Old Market Place, Workington, Cumberland, England.
The record shows the following:
Name Position Status Age Place of birth Occupation.
George H Vingoe Head Married 25 St Just Cornwall Engine Driver (Rail)
Margaret Vingoe Wife Married 21 Workington, Cum.
George E Vingoe Son Single 4 M. Workington, Cum.
------------------------------------------------------------------------------------------------------------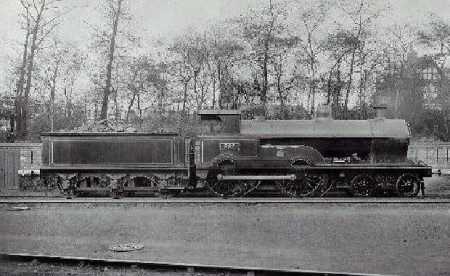 The census shows George working as a Railway engine driver. he may have been employed by the London and North Western Railway Company (LNWR) who operated the lines in and out of Workington. On the left is a photo of the type of Locomotive used on the line at that time.
Between 1881 and 1889 George H and Margaret had at least one daughter whom they named Louisa. Then in 1889 they had a second son who they named after George's cousin Almond Rowe.
George Vingoe was apprenticed into the butchery trade and was shown on the 1901 census as being a Pork Butcher living with his mother Margaret.
The Immigration records at Ellis Island in the United States of America show the following entry on the 24th of June 1911:-
Associated Passenger Date of Arrival in U.S.A. Port of Departure
Vingae, Almond June 24, 1911 Liverpool
The records go on to show that Almond Vingae arrived in the USA on board the Cunard Vessel "Campania".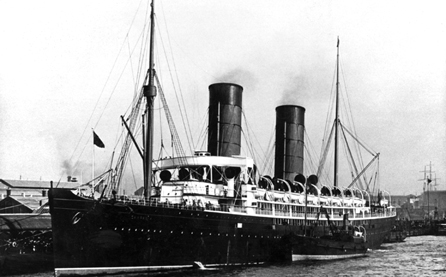 The Cunard Ship Campania
The Campania was built by Fairfield Shipbuilding & Engineering Company, Glasgow, Scotland in 1893. She was 12950 gross tons with a length of 622 (bp) feet long and was 65 feet wide. She was powered by steam triple expansion engines, twin screw. and her average service speed was 21 knots. The ship carried 2000 passengers ( 600 first class, 400 second class, 1000 third class ).
Built for the Cunard Line, she sailed under the British flag, and was launched in 1893 and named Campania. She sailed on the Liverpool-New York route until she was sold to the British Admiralty at the start ofthe First World War in 1914 and renamed HMS Campania. Rebuilt as an aircraft carrier she served throughout the war but was sunk following a collision in the Firth of Forth in Scotland in 1918.
The Campania sailed from Liverpool in 1911 carrying passengers who hoped to build a new life in the USA. Amongst these was a group from Workington in Lancashire. The ships manifest shows them as :-
Number Name Gender Age Married Ethnicity Place of Residence
0002. Vingae, George E. M 30y M England-English England, Workington
0003 Vingae, Ellen F 28y M England-English England, Workington
0004 Vingae, Elsie F 6y S England-English England, Workington
0005 Vingae, George M 3y S England-English England, Workington
0006 Vingae, Almond M 23y S England-English England, Workington
The original manifest. Numbers 2 -6 correspond to the family as listed above. We can see that they were going to stay with the sister of George and Almond Mrs Louisa Eggleston at 137 Baldwen St, Youngstown, Ohio.
Although the spelling on the ships manifest is Vingae I have no doubt that this is the Vingoe family. Later generations that we have contacted confirm that this was a spelling mistake on the part of the clerk on Ellis Island.
From Ellis Island Almond travelled with his brother and his family to the home of their sister Louisa in Youngstown. It would not have been long before a postcard similar to these showing the famous Idora Park would have been on its way to England to tell his parents that they had all arrived safely.
The Dancehall & Depot, Idora Park The Rapids on the Old Mill amusement ride
Youngstown like Workington was a steel making town and it was probably the attraction of jobs in the mills that had persuaded Almond and his brother to make the move. For more information on this we await the imput of our American cousins.
Questions or problems regarding this web site should be directed to george @ penhalvean.freeserve.co.uk
remove spaces in e-mail address before sending.

Last modified: Wednesday October 05, 2005 .